Why
Why we do what we do.
Well, this is the big question!...
and we passionately believe that Global Climate Change is real and happening now, one degree at a time.
That is why we started working in the renewables industry 20 years ago and why we consistently strive to be part of the solution and not part of the problem. We don't want to sit back and watch, we want to play a small part in changing things for future generations.  Global climate change is real and happening now - the evidence is overwhelming.
---
Wind power generating interest for the future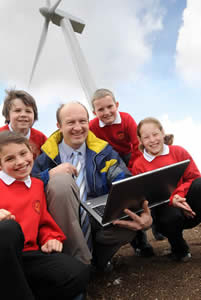 Roskrow Barton has proved popular amongst the younger local people too, playing host to visits from Tregony and Probus primary schools, where the children were given a valuable insight into the energy for the future.
Photo courtesy CLP Wind Projects
---
Many organisations, public and private, have also reached the same conclusion: The current changes to our climate are not just part of a natural cycle, we are contributing to it. In order to leave a habitable planet for future generations we must act now.

Ignoring the situation is not an option.

Some useful links: