What we do
Wind works, and the UK has about 40% of the European wind resource, so there's a huge amount of free, clean, energy out there for us all.
European wind resources at 50 metres agl. Courtesy – www.windatlas.dk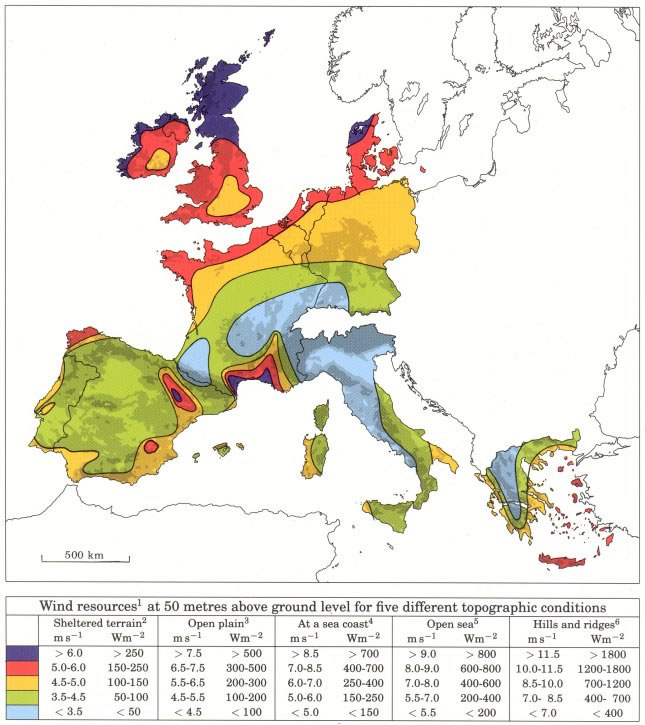 We listen carefully so that we fully understand your aims and then we take action.  This could be a proposal, an action plan, a scope of work or a decision between us to stop, because that may be the right thing to do!
All Wind uk offers practical advice, solutions, management and energy to your project.
Our clients and customers come from many sectors and we work with them on their projects, no matter what the size, to enable them to achieve their goals, by taking them through:
Early site assessment,
Project definition,
Overall feasibility,
Project development,
Planning application and
Preparation for construction through to operation.
An array of specialists covering various key areas support us, to help us deliver projects to our customers.
We work with individuals, assisting them in realising their own wind generator installation, from reviewing their site, to submitting a planning application through to wind generator supplier review and selection, leading to installation.
Our intention is to carry out the agreed tasks efficiently,
cost-effectively and on time as your project partner.
At the end of the project we evaluate the work together to ensure that we have delivered what was needed, even if the scope changed with time.